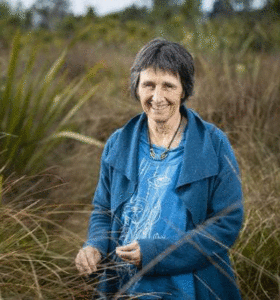 Kathleen Gallagher is a New Zealand based poet, playwright, writer and filmmaker.
Kathleen Gallagher is from Te Wai Pounamu New Zealand. Her tribal affiliations include Kāi Tahu, Ngāti Kuia, Gallagher Donegal and Doyle Wicklow Ireland.
She has authored four poetry books, seventeen plays, nine feature films and two novels. She received the New Zealand Playwrights Award in 1993 and the Sonja Davies Peace Award in 2004 for the film Tau Te Mauri Breath of Peace.
Kathleen's films have played in cinemas and film festivals around the world. Her two highly acclaimed novels are Earthquakes and Butterflies 2015 and Inangahua Gold 2018.
Her most recent book and film Rohe Kōreporepo The Swamp The Sacred Place premiered in the New Zealand International Film Festival, 2021. Kathleen lives in Christchurch with her husband Mike Coughlan.