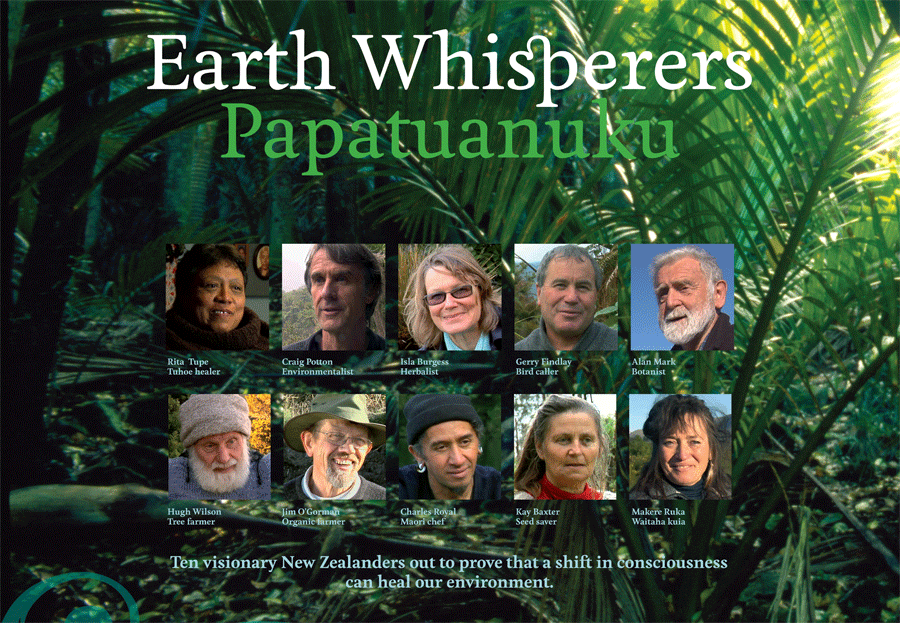 "This inspirational film weaves together NZ"s stunning landscapes, eclectic characters and unique sounds in a poetic message of protection for Planet Earth ."

Nick Smith – NZ Minister for the Environment
Kathleen Gallagher's latest film Earth Whisperers/Papatuanuku was shot at spectacular locations around New Zealand by acclaimed cameramen Alun Bollinger and Mike Single.
This absorbing feature documentary focuses on 10 visionary New Zealanders out to prove that a shift in consciousness can heal our environment. You'll be inspired, and never look at stinging nettle in your garden in quite the same way again.
Earth Whisperers Papatuanuka premiered on May 10th 2009 at Hollywood Cinema in Christchurch NZ. It has since been launched in 60 Cinemas with more than 500 Screenings throughout New Zealand.
Earth Whisperers/Papatuanuku was a joint production and was launched in UK at the Penthouse in NZ House London on 18th September 2009, before being released in selected cinemas throughout the UK and Ireland, with screenings sponsored by Transition Towns.
Festivals
Reel Earth Environmental Film Festival, Palmerston North NZ May 2009
Middle East International Film Festival Film Festival, Abu Dhabi UAE October 2009
Guangzhou International Documentary Film Festival, Guangzhou China December 2009
Byron Bay International Film Festival, Australia March 2010
FIFE French International Environmental Film Festival, Paris November 2010
Sierra Nevada Wild and Scenic Film Festival, USA January 2011