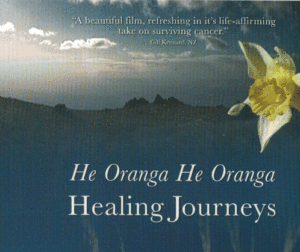 Watch this beautiful 1 hour documentary for free on Vimeo
This inspiring feature documentary follows the journeys of eleven cancer survivors through – bone, bowel, breast, ovarian, prostrate, brain cancers, Hodgkins and non Hodgkins lymphoma, and leukaemia – to health.
It begins where the boiling heart of the earth rises up to the surface. It climbs the mountain peaks, descends the valleys and flows through the bush and on out to sea, exquisitely blending taonga puoro – traditional Maori music, Celtic harp and flute, and contemporary waiata.