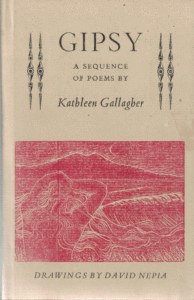 The five sections of this fictional verse sequence trace the long life in Aotearoa New Zealand of Irish settler Miri Gipsy O'Donnell.
In an imagined northern coastal setting, her early experiences of the country are as a young wife and mother aged about twenty. By contrast, her final years, up to her ninety-ninth, are spent at a southern location. The drawings are by David Nepia.
Kathleen Gallagher, as poet and playwright, employs several means – letters and diary notes – in realising her outline of a unique woman.
My fingers wrapping meticulously and beautifully
the brown paper

folding the creases
greeting the customer

there is a line of blue across the sky
if I move slightly to the right

I can see past the shoulder of the old lady
to the blue ribbon of sky

I am wearing my green dress
the floor is red spirals of red

I can read the lines of pain across the face of the old lady
old tracks the lady can barely follow anymore

I wrap the brown paper
around the box, smoothing the creases

the old lady's face becomes unlined and beautiful
in her hands she takes the parcel

and leaves
under the blue ribbon of sky